Proven Premium Materials Make a Difference
My materials are purchased locally from reputable sources throughout York County, PA.
Foundations
All of my foundations are built using insulated concrete forms. They are waterproof with an R50 insulation rating. This means your new basement will stay dry and warm regardless of how the weather is outside.
These concrete forms may also be utilized to build the entire exterior of a custom home.
Logix Insulated Concrete Forms is one solution I use in my custom homes so you can be assured of superior performance for your money.
My team is also Logix certified so you may have peace of mind knowing that your foundation is being installed correctly.
Check out some of the benefits of having Logix used in your foundation at Logix's web site by clicking here.
Framing
I utilize two important engineered materials in my custom homes that make for a more durable end product than other homes made from traditional lumber and materials.
High quality trusses from York P-B Truss Inc.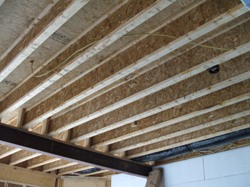 I-joists and engineered lumber products from local suppliers.